Lamborghini Revuelto: The new Supersports Car on 2023
The New Lamborghini Revuelto
The Italian brand has unveiled its new flagship Lamborghini Revuelto plug-in hybrid, which combines a naturally aspirated V12 with three electric motors.
This launch marks the beginning of a new era for the Italian firm, which has promised to offer electric vehicles and further electrify its upcoming combustion-engine cars.
The design of the Lamborghini Revuelto
It features Lamborghini's own design language, with different Y-shaped signatures scattered throughout and an aerodynamic downforce 70% greater than that of the Aventador.
In addition to having three different screens following the iconic single central line of the firm.
The first is for the 12.3-inch instrument cluster, which displays data such as:
The speed
The revolutions
Driving mode
Power consumption.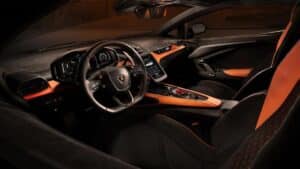 The second, central, vertically oriented 8.4-inch screen, is designed for infotainment.
And the third one is an innovation since, for the first time, Lamborghini offers a screen in front of the passenger, displaying information about the speed and engine revolutions.
Let's talk about the Features
The Lamborghini Revuelto is a rather peculiar plug-in hybrid, with a naturally aspirated V12 6.5 as the main engine and three additional electric motors.
Two of them are located on the front axle and are responsible for torque vectoring, which allows for improved dynamic qualities.
In addition, a third electric motor is linked to the eight-speed dual-clutch gearbox.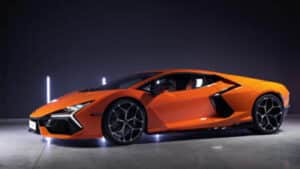 The car's battery is just 3.8 kWh in capacity, which means it can be recharged in half an hour at a 7 kW power outlet or by taking advantage of the car's regenerative braking in six minutes.
It is even capable of generating 1,015 hp at full power, but in turn, produces 309 grams of CO2/km.
In the words of the CEO of Lamborghini
"The new Revuelto is a milestone in Lamborghini's history and an essential pillar in our Direzione Cor Tauri electrification strategy. It is a unique and innovative car, but simultaneously true to our DNA: the V12 is an iconic symbol of our supercar heritage and history…
…The Revuelto was born to break the mold, combining a new 12-cylinder engine with hybrid technology, creating the perfect balance between delivering the excitement our customers demand with the need to reduce emissions."
Stephan Winkelmann, President and CEO of Lamborghini.