Have you heard about Custom Coloring?
One of our services at Wheels Doctor is Custom Coloring, which consists of customizing the rims of your car with different colors to your liking, adding your style.
Tired of boring aluminum rims?
Customize your rims with the color or design of your choice!
For this, we use Powder Coating, a modern dry powder coating tool that solidifies when heated, creating a uniform layer of paint.
You can see the complete post about Powder Coating here.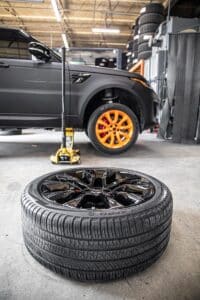 With this service, using the Powder Coating technique,
we offer a stronger chemical resistance than regular paints.
In addition to a great performance of the piece outdoors, protecting it against substances that may affect the piece.
With Custom Coloring you can not only add style and life to your rims, but you will also be adding protection and safety!
If you want this service do not hesitate to contact us, we are available to assist you 24/7!